By the time LeBron James made The Decision, he was already the best basketball player in the world. He was 25 years old and had just won his second consecutive MVP award.
Ten years later, James is still at the top of the NBA, and that decision to take his talents to South Beach stands as arguably the most impactful transaction in NBA history for two reasons:
1. The GOAT conversation
In 2010, James displayed the potential to be the greatest player of all time. These days, it's a legitimate debate thanks to the astounding résumé he built after his first Ohio departure. There were 10 NBA Finals in the 2010s, and James had a strong case as the single best player in eight of them (in a row). That's one of the most impressive stats of this basketball era. The move to Miami made it possible.
2. Player empowerment
Looking back at James' four years in Miami leaves little doubt that he made the right choice. On top of those two primary effects of his move, there's a third, slightly underrated legacy: James entered an ideal environment to improve his game and fully took advantage of it.
He obsessed over improving his scoring efficiency numbers each year. After converting 47.6% of his shots in 2006-07, James worked to improve that number for seven straight seasons, embracing the emerging concept of efficiency that culminated in a ridiculous final two years in Miami, when James peaked from a pure scoring perspective.
Sure, James had become an efficient overall scorer prior to 2010, but he climbed to another plane entirely in Miami. And he did it through addition by subtraction.
His chosen teammates and coaches deserve some credit here. Simply being around a better talent pool enabled James to trim out the most difficult shots from his shot diet. To this day, his shot activity in his final two years in Miami remains his least active. They are the only two seasons in which James averaged fewer than 17 shots per 36 minutes.
And the shots he did take during those two seasons were cleaner than the ones he was hoisting up back in Cleveland. He shot fewer long 2s and dominated the paint. In the seven seasons before James got to Miami, around 35% of his shots came at least 10 feet from the rim but inside the 3-point line. That dipped to 30% in 2012-13 and slipped all the way to 25% in 2013-14. Since then, James' midrange volume has continued to decline — all the way down to 17% of his attempts when the 2019-20 season was paused.
Opposing defenses couldn't zero in on him like they did in Cleveland. Not only did Miami have Chris Bosh and Dwyane Wade, they also featured a rotating group of catch-and-shoot threats including Shane Battier, Mike Miller and Ray Allen. These sharpshooters helped Miami open up the floor and keep the middle clean for James.
On June 20, 2013, after a thrilling Game 6 win, the Heat finish off the Spurs with a 95-88 victory. LeBron James leads the way with 37 points and 12 rebounds in Miami's title defense.
Although his tenure in the league will always be associated with the pervasive rise of 3-point shooting and analytics, James became the greatest player of his generation with an old-school scoring approach: attack the rack. LeBron became the NBA's best interior scorer during the Heat years, thanks in part to a great system.
The Heat morphed Chris Bosh, one of the NBA's best young interior scorers, into a spacey pick-and-pop threat. Bosh's versatility helped turn the offense inside out, forcing opposing bigs to abandon the paint.
"It becomes a matchup problem," James said in 2013. "Anytime you can bring one of the best defenders out of the paint — you know, like Roy Hibbert, Dwight Howard, Tyson Chandler, or any of these guys like Marc Gasol that protect the paint so well — that allows driving lanes for myself and [Wade] to come much easier."
James' time in Miami coincided with the mainstreaming of basic analytical discourse in pro basketball. Franchises began hiring more and more analysts and statisticians. Concepts that Dean Oliver introduced a decade prior started to escape nerdy message boards and infiltrated basketball discussions at the highest levels. The word efficiency started showing up everywhere, even when I asked James in March 2013 to describe how his game had shifted since his rookie year:
"Efficiency," he said. "I'm just a more efficient player. I take no shots for granted. When you're a young player, you cast up low-percentage shots, and you're not really involved with the numbers as much as far as field goal percentage and things of that nature. As I've grown, I've made more of a conscious effort to become a more efficient player, and I think it's helped my team's success over the years."
After the Heat sputtered against the Dallas Mavericks in the 2011 Finals, James used that offseason to rework his scoring approach. In his worst postseason moments against teams such as Boston and Dallas, James would listlessly orbit around the perimeter. When he came back in 2011-12, that tendency was eliminated. The passivity was gone.
In his last year in Cleveland, James tried 4.7 3s per game. In 2011-12 that number shrunk to 2.3. He traded in mediocre jumpers for more ferocious rim attacks. He famously visited Hakeem Olajuwon for training in Houston, and he started posting up more on the left block.
Prior to 2011-12, James had never logged an effective field goal percentage (eFG) higher than 55%. In his nine seasons since, he has done so eight times. And that eFG soared above 60% in his final two Miami years. To put that into context, consider these two nuggets:
Following the 2012 championship, James again went back to the lab. This time he worked on his 3-pointers. In 2012-13, he wasn't just the best paint scorer in the league — he also made 40.6% of his 3s. James finally aligned the all-world athleticism that helped him muscle his way to rim with a reliable jumper. He was unstoppable.
Was this peak LeBron? I think so.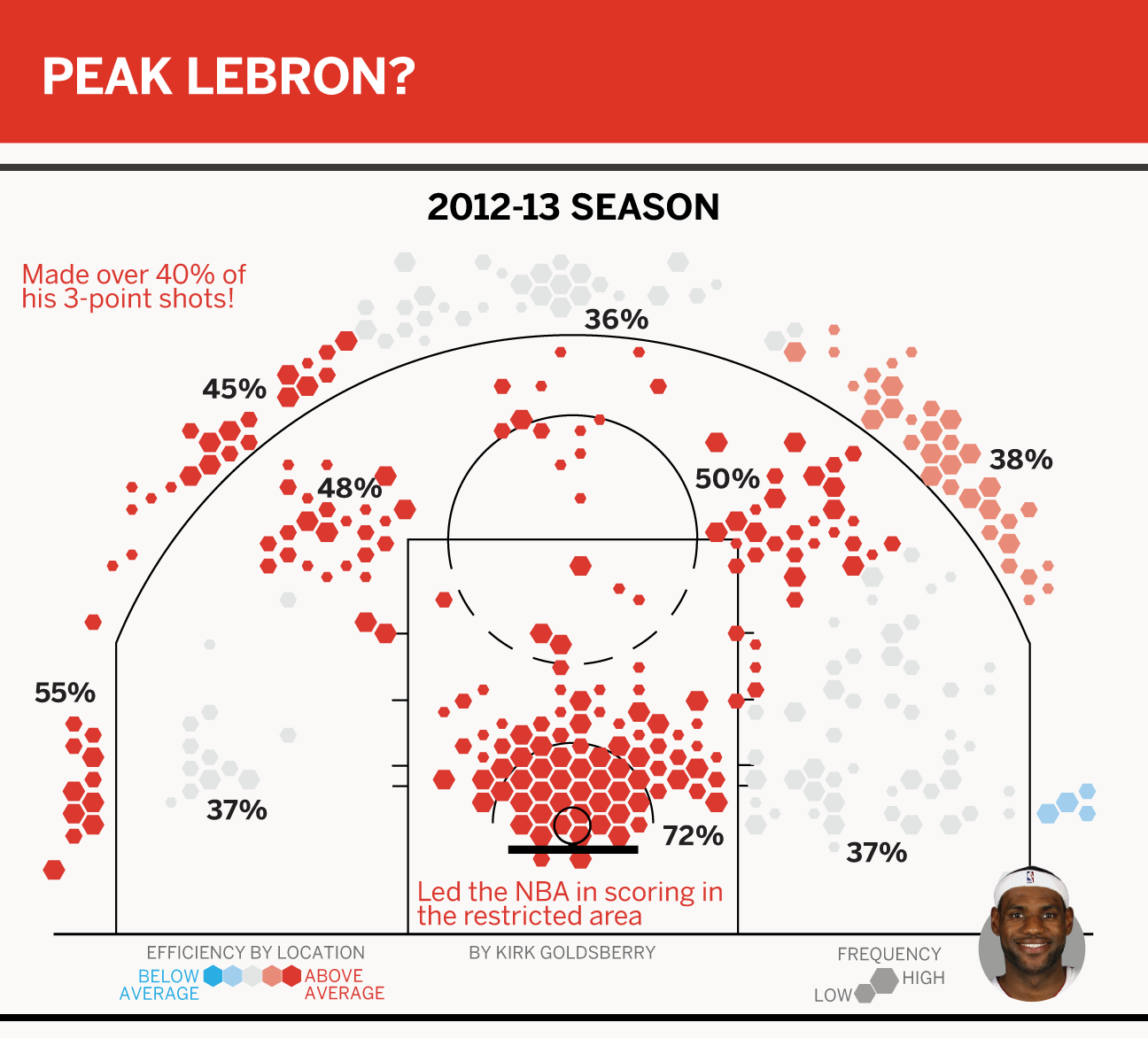 By the time the Heat reached the most pivotal game of that season, James was ready to put it all together on the biggest stage. Just 48 hours after Ray Allen's 3 kept the Heat alive in a Game 6 win over the San Antonio Spurs, James and his teammates still had work to do.
Earlier in his career, James had struggled to meet these definitive moments. But in Game 7 of the 2013 Finals, James played one of the finest games of his life, propelling the Heat to another title with 37 points on 23 shots. (By the way, has there been a more impressive Finals win? If the 2012-13 Spurs weren't the best team to lose the Finals in the 2010s, then the 2015-16 Warriors were. Who beat them both?)
The Decision has many lasting legacies, but as it pertains to James' basketball career, the lessons are clear. James proved that even great players need help to get to the mountaintop. His move to Miami showed a generation of superstars that it's more important to be loyal to your own career than to any ownership group. And his on-court evolution displayed how the most promising players could take their skills to another level.
Last summer, when Celtics wing Jayson Tatum was attempting to rebound from a shaky second season, he saw a clear path to get back on track.
"Focus on getting to the basket much more," Tatum said. "Shoot more 3s, and layups, and free throws."
In short: Be more efficient. Sounds familiar.
Comments
0 comments